Wednesday, May 20, 2020, posted by Geetesh Bajaj at 9:30 am


By John Korchok
We looked at the basics of XML programming in our Introducing XML Hacking in Microsoft Office post. Now, let us take this concept further. Let's start hacking some XML with a simple project: setting the default table text size.
This article assumes you have a suitable text editor installed. Mac users should also read the XML Hacking: Editing in OS X post.
When you insert a new table in PowerPoint, the default table text size is 18 points. Using XML hacking, we can set this to whatever point size the designer prefers. You can also set the text to appear in all caps. Following the previous post's instructions, add .ZIP to the file ending and unzip the file. Look for the ppt folder and open it:


Read the rest of this entry »
Filed Under: XML
Tagged as: John Korchok, XML

---
Wednesday, May 13, 2020, posted by Geetesh Bajaj at 9:30 am


By John Korchok
With the introduction of Office 2007, Microsoft changed the basic file format that underlies Word, PowerPoint, and Excel. Instead of the proprietary and mostly undocumented format that ruled from Office 97 to Office 2003, Microsoft made a smart decision and switched to XML. This is tagged text, similar in structure and concept to HTML code with which you may already be familiar.
XML opens up a world of possibilities for automated document construction, but that's a topic for another day. The everyday relevance is that if a Word or PowerPoint file isn't doing what you need it to do and there are no tools in the program for the job, we can now dive in and edit the file ourselves. If you're a point-and-click user, this is probably not thrilling. But if you're a hacker at heart, a midnight coder, or just a curious tinkerer, you can do some cool stuff.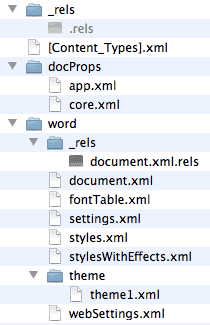 Read the rest of this entry »
Filed Under: XML
Tagged as: John Korchok, XML

---
Thursday, January 23, 2020, posted by Geetesh Bajaj at 9:30 am


The Notes Master does not work as predictably as the Slide Master in PowerPoint, and you have to reset (sorry, reapply) the Notes Master to individual Notes pages to see some changes you made. Why is that so? That's mainly because there's no way to select all Notes Pages in your presentation at the same time.
Even if you go are courageous enough to do this task manually, one Notes Page at a time, you will only see the Reapply master option when you first right-click an empty area within Notes Page view to bring up the contextual menu, as shown in Figure 1, below. You then need to choose the Notes Layout option in this menu, highlighted in red within Figure 1 to bring up a dialog box of the same name, as shown in Figure 2, below. You then check the Reapply master option, shown highlighted in red within Figure 2, below. Do the same for forty or a hundred slides, and you may not be too delighted, to say it lightly!

Figure 1: Right-click an empty area within Notes Page view

Figure 2: Reapply Notes Master
Filed Under: Programming
Tagged as: Macros, PowerPoint, Steve Rindsberg, VBA

---
Thursday, October 31, 2019, posted by Geetesh Bajaj at 9:30 am


A comprehensive, completely free PowerPoint add-in set to revolutionize design workflow has just been released by presentation agency BrightCarbon. We hear from one of its creators, Jamie Garroch.
The Beginnings of BrightSlide
When I joined BrightCarbon as their Senior technical consultant at the end of 2018, one of the first projects I took on was working out how the company could integrate PowerPoint add-ins into its offering. BrightCarbon provides lots of free resources to the presentation community, such as webinar masterclasses and downloadable tools like the Quick Access Toolbar. It made sense to develop our first add-in along the same lines and provide it for free to the community. But what to create?
We decided to build something that targeted two groups of users, those who dip into PowerPoint every now and then but don't consider themselves to be experts and those who work in design studios and know PowerPoint inside out. These are very different users and coming up with a feature list meant talking to a sample of people from both groups to understand their needs.
Filed Under: Add-ins
Tagged as: Add-in, BrightCarbon, Guest Post, Jamie Garroch

---
Wednesday, October 16, 2019, posted by Geetesh Bajaj at 9:30 am


One of our most popular posts is one where you learn how you can export all the slides in your presentation to single-slide PowerPoint presentations. Although the interface for this process uses the SharePoint libary options, many more people used this feature to export single-slide presentations, without worrying about anything to do with SharePoint. Did you notice used rather than use in the previous sentence? Yes, this feature is now deprecated! If you have an older installation of PowerPoint that is not updated, this may still work for you. Otherwise, this amazing feature is dead.
Understandably, many PowerPoint users are unhappy because it's a real pain to export hundred of slides as individual slide files. Thankfully, our good friend, Jamie Garroch from BrightCarbon has written some VBA code that will help you revive this option!
Filed Under: Programming
Tagged as: Jamie Garroch, Macros, Programming, VBA

---
---
Microsoft and the Office logo are trademarks or registered trademarks of Microsoft Corporation in the United States and/or other countries.
-->