In September last year, we carried a feature that showed how you could create transparent pattern fills in newer versions of PowerPoint. We ended that post with the hope that someone will be able to provide a VBA-based solution.
Around Christmas, Jamie Garroch of YOUpresent decided to play Santa Claus and provided more than just a VBA solution. He created a free add-in that sits comfortably within your PowerPoint right-click menu. This menu option provides you with quick access to adding transparency in pattern fills for shapes!
Since this was such an amazing gift, we decided to hold on to this story until everyone got back from their holidays, and then it looks like we waited too long! Well, you no longer need to wait. Before we tell you more, let us ask Jamie to tell us more about this add-in.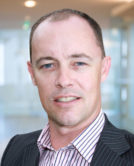 The idea actually came from Geetesh as a follow up to the Transparent Pattern Fills in PowerPoint article published on Indezine in which he eluded that maybe there was a VBA solution to make the setting of transparent pattern fills easier for users of PowerPoint 2007 and later. I love a good challenge and I also enjoy evangelizing about the extensibility capabilities provided by Office applications, particularly PowerPoint. The challenge is now solved and the knowledge is shared, thanks to the publication of the source code. I hope it inspires people to have a go at writing their own VBA projects.
Thank you, Jamie.
For those who would like to now add transparency to your pattern fills, there's an easy solution. You can download the PowerPoint add-in from Jamie's site. And if you need some inspiration to use transparent patterns, then Jamie provides that too! On his site, you can find an old television set that has the scanlines effect, created entirely in PowerPoint!
And for programmers, Jamie also generously provides the entire source code.
You May Also Like: PowerPoint Add-ins
---
---